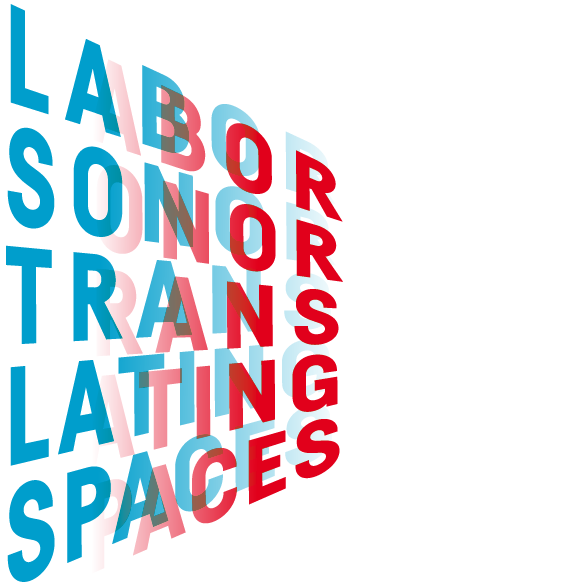 Raed Yassin
translating the space within into emotion
A Small Leak of an Interior Monologue (2021)
Während des vergangenen Jahres hat die Welt eine Zeit der Isolation durchlebt, wie sie in der Geschichte ihresgleichen sucht. Unser kollektives Unterbewusstsein hat auf so vielen Ebenen Narben bekommen, dass es längere Zeit brauchen wird, um die vielen Erscheinungsformen und Echos zu verdauen, die wie ein Bumerang dieser langen Erfahrung in Zukunft auf uns zukommen. Aufrufe zum Kommunizieren, Beschwerden und Klagen, Hymnen und Lieder, Gedanken zur Existenz, zu Leben und Tod sind nur einige gemeinsame Merkmale der Gefühlsausbrüche, die wir alle durchlebt haben. Es ist, als würden diese Gefühle in uns eine Feedbackschleife bilden und unregelmäßig wiederkehren und auftauchen, ohne dass wir wüssten, wann.
Dieser Prozess gleicht einem fortwährenden Brummen oder Summen, einem Klang, der nur innerhalb unseres Körpers bei geschlossenem Mund nachhallt. Summen ist ein sehr persönlicher Akt, die klangliche Manifestation von inneren Gefühlen, die selten nach außen getragen werden; ein innerer Monolog eines mitschwingenden Körpers, der niemals spricht.
Die vorliegende Arbeit bildet einen Raum innerhalb eines Raumes: Darin hört man den Klang von sechs Sänger*innen, die eine Melodie summen. Das Werk repräsentiert die körperlose Erfahrung des Summens in unseren Lungen – der Ungläubigkeit unserer Augen und Ohren zum Trotz: wie die Allegorie einer russischen Puppe, die die komplexen Schichten menschlicher Emotionen offenlegt.
---
Ballhaus Ost, Etage IV, Pappelallee 15, 10437 Berlin
Freitag, 27.08.21, 16:00-22:00, Samstag, 28.08.21, 15:00-22:00, Sonntag 29.08.21, 15:00-22:00
video documentation—concept, edited by: Isabell Spengler
camera by: Lilli Kuschel, Stefan Korsinsky, Isabell Spengler
sound composed and mixed by: Raed Yassin
additional sound mix by: Adam Asnan
---
A Small Leak of an Interior Monologue (2021)
During the past year, the world went through a period of isolation unlike anything ever seen before in history. Our collective unconscious has been deeply scarred on so many levels, it will take time to digest the many guises and echoes that will boomerang back to us in future from this prolonged experience. Calls to communicate, complaints and grievances, hymns and songs, thoughts of existence, life and death are but a few common traits of the outpouring of emotions we all felt. It is as if these feelings are on a feedback loop inside us, echoing and moving at an irregular pace, not knowing when they will resurface again.
This process mimics that of a constant droning hum, a sound that resonates only inside our body while our mouth is closed. Humming is a very personal act, one that is the sonic manifestation of internal feelings that are seldom expressed outwardly; an interior monologue of a resonant body that never speaks.
The work here is a space within a space: inside it, the sound of six singers humming a tune can be heard. The work represents the disembodied experience, through the humming inside our lungs, to the disbelief of our eyes and ears, like the allegory of a Russian doll that peels back the complex layers of human emotion.
---
Ballhaus Ost, Etage IV, Pappelallee 15, 10437 Berlin
Friday, 8/27/2021, 16:00-22:00, Saturday, 8/28/2021, 15:00-22:00, Sunday 8/29/2021, 15:00-22:00
video documentation—concept, edited by: Isabell Spengler
camera by: Lilli Kuschel, Stefan Korsinsky, Isabell Spengler
sound composed and mixed by: Raed Yassin
additional sound mix by: Adam Asnan
---
Raed Yassin (*1979, Beirut) ist Künstler und Musiker. Er machte 2003 seinen Abschluss an der Theaterfakultät des Kunstinstituts in Beirut; seitdem entwickelt er seine konzeptionelle Praxis in vielen Medien, darunter Video, Klangkunst, Photographie, Text, Skulptur und Performance. Yassins Arbeiten entspringen häufig einer Untersuchung seiner persönlichen Narrative und ihrer Verortung innerhalb einer kollektiven Geschichte, wobei er Aspekte von Konsumkultur und Massenproduktion als Perspektive wählt. Er war Artist-in-Residence bei De Ateliers in Amsterdam (2008-2010), der Delfina Foundation in London (2010 & 2014) und der Akademie der Künste der Welt in Köln (2015) und erhielt 2012 den Abraaj Group Art Prize. Als Musiker ist er einer der Organisatoren des Irtijal Festivals für Experimentelle Musik in Beirut und hat etliche Solo-Alben veröffentlicht. Ferner ist er Mitglied von Ensembles wie dem "A" Trio und PRAED. 2009 gründete er das unabhängige Musiklabel Annihaya. Raed lebt gegenwärtig in Berlin und Beirut.
Raed Yassin (born 1979, Beirut) is an artist and musician. He graduated from the theater department at the Institute of Fine Arts in Beirut in 2003, and since then has developed his conceptual practice through multiple mediums such as video, sound, photography, text, sculpture and performance. Yassin's work often originates from an examination of his personal narratives and their position within a collective history, through the lens of consumer culture and mass production. He was a resident artist at De Ateliers, Amsterdam (2008-2010), the Delfina Foundation, London (2010 & 2014), Akademie der Künste der Welt, Cologne (2015), and is a recipient of the Abraaj Group Art Prize (2012). As a musician, he is one of the organizers of the Irtijal Festival for Experimental Music (Beirut), and has released several solo music albums, as well as part of groups such as "A" Trio and PRAED. In 2009, he founded his independent music label Annihaya. Raed currently lives between Berlin and Beirut.